Bluetooth 5.0
Compatible with both Apple and Android devices
CALL
Take calls and listen to music with your smartphone
Instant pair
Start listening to your favorite songs as soon as you flip open your Basspods
Charging Capsule
Fully charge your earphones up to four times while on the go
Battery Life
8 hours of playback time and 100 hours of standby time
Lightweight Design
Aerodynamic fit keeps earbuds stable in the ear
True Wireless Audio
Enjoy the latest hands free technology with superior surround sound and Bluetooth connectivity. Ditch messy wires and join the True Wireless Audio movement!
Advanced true wireless technology
Ditch the wires and listen to music with careful levels optimized for true wireless audio. You can also take calls easily with a built in microphone.
Compact Design
Don't worry about leaving the battery on a low charge. These earphones come with a charging case on a convenient lanyard that lets you charge the earphones up to four times.
Perfect Fit
Ergonomically designed to fit comfortably in ears, wear your Basspods for hours on end.
Customer Reviews
Customer Reviews
09/16/2018
Well the sound is great ! However I didn't get mine till 5 weeks later
09/13/2018
They took about 3 weeks to get here in the UK. They're good quality but the paint has worn a bit from coming in and out, but not too much of an issue. One thing I will say is if you watch YouTube then it becomes delayed as the Bluetooth technology isn't the best, also the way you pair them is a bit confusing but overall they're very good quality for the price and loud too.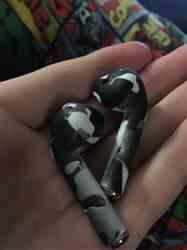 08/07/2018
Super dope! Glad I didn't invest in Beats
07/31/2018
These were sold out when I first visited this website. So glad I was able to order them once they restocked! Absolutely love how they look.
07/10/2018
I purchased these at a regular price :/ but still worth it! Took 2 weeks to arrive but no problem with me. The sounds is pretty good for a wireless EarPods. Amazing product! Thanks!